"Your Students will be Crawling all over their Computers doing these Minibeasts & Insects Lesson Plans!"
The second book in this series contains lesson plans activities that would take over a term to complete if you tried all of them. Written specifically for the theme Minibeasts (Insects) it has lessons about worms, bugs, mosquitoes, flies, beetles, ants, spiders, catapillars, bees, snails and more.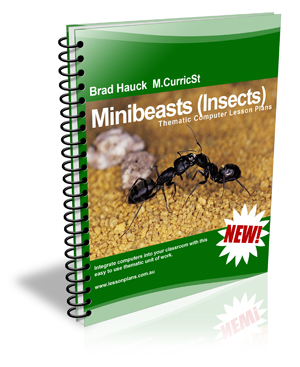 Activity 1: Squishy
Activity 2: Crunchy
Activity 3: Hairy
Activity 4: Flying
Activity 5: Digging
Activity 6: Biting
Activity 7: Stinging
Activity 8: Edible
Activity 9: Slimy
Activity 10: Many legs
Activity 11: Crawling
Activity 12: Frozen
If you are doing a unit that involves the study of insects, minibeasts or other creepy crawlies, you will love the lessons in this unit. Each lesson plan has been tested in the classroom with real life students and we all had a great time… especially with the Flies lesson!
Combining language arts, english, maths and science skills with computer technology lesson plans, this thematic unit of work will take the weight off your shoulders and free you to spend more time working with your students.
Each lesson is written to take advantage of common classroom equipment and computer software so no matter how big or small your school is, you should have no problems with implementation.
Don't take my word for it. Listen to what our customers say.
Thanks for letting me get a look at your new books based on thematic units. Found it to be easy to read and apply in my Year 5 class. With my low level of knowledge, that's a plus! Jill Maynarde, Valley Hill, U.S.A.

As a first year teacher I have got to say how easy I found it to integrate your lessons with the curriculum at my school. Easy and effective. Joe Stemison, Australia

Loved your 60 lesson plans book so didn't quite know what to expect from this new series you have started. Awesome! Really good in the lab and kids loved it too. Thanks Kerri Yorhansic, U.S.A.

Easy language, easy to use and great results from the students L. Golding, U.K.
Here is a summary of the benefits you receive:
Over 1 terms lesson plans for computers – No planning for at least 3 months
Thematically linked – Fits in with common teaching methods
Well structured lessons – Just pick up and teach
Suits all grade levels – Can be used if you transfer to another grade
Real world application – Related to every day use of computers
Examples and screenshots included – Everything you need is written on the page
Improves your own computer skills – By applying the lessons in the book, you learn more about how to effectively integrate computers.
The series of lesson plans can be taught in any order or you can choose just 3 or 4 depending on your needs. Some lessons take just one lesson but some take more.
100% Money Back No Questions Asked Guarantee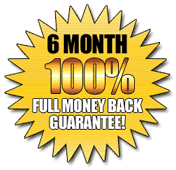 By the way, this book is yours to keep even in the unlikely event you decide to take advantage of our ironclad moneyback guarantee: Your satisfaction is assured through our no risk, you-can't-lose, 6 months, 100%, no-questions-asked, iron-clad moneyback guarantee. If for any reason, you aren't thrilled and satisfied with our product, just contact us and we'll refund 100% of your purchase price. No hard feelings.
What I'm saying is, don't decide now if this product is for you. Just get it and try it out. If it doesn't do everything I say and more, if you don't save money, time and frustration, if it isn't life-changing, if it doesn't work for you, you have nothing to worry about because you can get every dime of your money back under our no-loopholes guarantee. So you have nothing to lose and everything to gain.
NOTE: This is a digital product that means that after ordering, you will be taken to a page to download your book. You will need the free Adobe Acrobat Reader from www.adobe.com to view and print it. It is a PDF file so you can view it on a PC or a Mac. After purchase, you will be sent an email with instructions on how to download your 'book' to your computer. We suggest that you login at school and print it there. Most schools are more than happy for teachers to print resources as they will be used at school.