"Here is the Microsoft Word Lesson Plans Collection You Need – No Matter What Grade You Teach…100% Guaranteed!
Each one of the 25 projects provides a unique learning experience for your students. (Actually, we have included 26 lessons because I didn't want to leave one of them out 🙂
They've also been tested out in classrooms to ensure that your job is made easier not harder through integration problems.
If you would like to use Word in your classroom without spending days teaching the boring basics, then you'll find this book a great resource. As each student words their way through a project, they learn skills as they go, not as separate skill lessons. Then you can, if you want to, adjust the lesson plan slightly to suit a whole range of classroom applications.
For example, the Tickets project could be adjusted so that students could make tickets for school functions and raffles.
Whether you are teaching 10 year olds or 50 year olds, these projects are perfect for your class. Each lesson is designed to take in the real world applications of Word.
Let's face it… why teach a skill or application which isn't going to help your students in their daily use of computers. You will find the instructions are laid out in clear, precise steps that take the user from starting Word, through to the end of the project and printing out the final result.
Some project titles:
Resume Cover Letter
Business Cards
Personal Letter Name
Card Brochure
Advertising Flyer
Company Introduction Letter
Cheques
Tickets
Newspaper
Advertisement
Laser Labels
With Compliments Slip.
Web Site Review
Evaluating a Web Page
Throughout the book, we have incorporated many different skills and commands found in Word. Some of these include, envelopes & labels, headers, alignment, justification, editing, graphics, masking and tables.
All you need to do is photocopy the instructions and hand them out! Everything else is contained within Word itself…
Save time
Great to give to substitute teachers
Fantastic time fillers for finished students
Get unlimited print rights for your school or classroom
Within a month of release, this book was one of the most talked about educational books available on the Internet. Rather than simply reading about it, why don't you grab a copy?
Even better still, you get quick access to your purchase. No more waiting for the postman, you just download your book to your computer and open it with the Free Adobe Acrobat Reader.
You can't lose with our 100%, Ironclad, Moneyback Guarantee
By the way, this bonus is yours to keep even in the unlikely event you decide to take advantage of our ironclad moneyback guarantee: Your satisfaction is assured through our no risk, you-can't-lose, 6 month, 100%, no-questions-asked, iron-clad moneyback guarantee. If for any reason, you aren't thrilled and satisfied with our product, just contact us and we'll refund 100% of your purchase price. No hard feelings.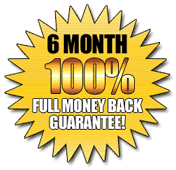 What I'm saying is, don't decide now if this product is for you. Just get it and try it out. If it doesn't do everything I say and more, if you don't save money, time and frustration, if it isn't life-changing, if it doesn't work for you, you have nothing to worry about because you can get every dime of your money back under our no-loopholes guarantee. So you have nothing to lose and everything to gain. Order your copy of 25 Successful Projects for Word for $27.00 $17 today!
Have a great day teaching,

Brad Hauck
Author / Teacher
Order your copy today. Click the button below now!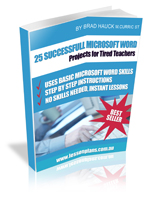 NOTE: This is a digital product that means that after ordering, you will be sent an email explaining how to login and download your book. You will need the free Adobe Acrobat Reader from www.adobe.com to view and print it. It is a PDF file so you can view it on a PC or a Mac. After purchase, you will be sent an email with instructions on how to download your 'book' to your computer. We suggest that you login at school and print it there. Most schools are more than happy for teachers to print resources as they will be used at school.