Computer Lesson Plans written for Teachers by Teachers
Now you can access over 300 lesson plans and lesson ideas for use with word processors, spreadsheets, databases, paint programs, the Internet and Microsoft software such as Word, Access.
60 Computer Lessons for Tired Teachers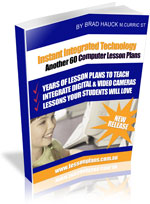 60 Lesson Plans for Tired Teachers!
Have you been given a digital camera or a whole bunch of them? Do you have a digital video camera or a scanner hanging around that doesn't get much work? Would you like to integrate this sort of technology across your curriculum areas quickly and easily? Then this resource has been written for you!
Or… Are you comfortable using computers, want some new ideas or ways to make your computer use an enthralling part of your daily teaching?
The lesson plans and ideas contained in this resource can be applied in many different subject and thematic areas. By following the simple steps, you will learn how to quickly apply one lesson to a multitude of study themes and topics.
Click here now to learn more about Instant Integrated Technology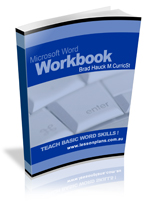 This is the ONLY workbook that teaches Microsoft Word thru a series of lessons, instructions, discussions, short answer questions, puzzles, exercises and activities! You get a completely photocopiable workbook that you can give to each student if you wish.
Then, under your guidance, your students can work their way thru the activities, questions and exercises learning more about Microsoft Word skills every step of the way. Incredibly it works with Word 2000 and up so you don't need to worry about which version of the software you are using!
Click here now to learn more about the Microsoft Word Workbook.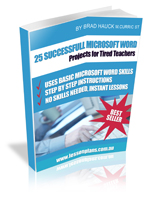 These projects are perfect for your class. Each lesson is designed to take in the real world applications of Word. Written for Word 2000, each lesson works with all versions including Word 2003.
Throughout the book, we have incorporated many different skills and commands found in Word. Some of these include, envelopes & labels, headers, alignment, justification, editing, graphics, masking and tables.
All you need to do is photocopy the instructions and hand them out! Everything else is contained within Word itself…
Click here now to learn more about the Microsoft Word Workbook.